---
The Three Pagodas (on the northern side of Dali Old Town), one of China's state preservations are the symbol of Dali's ancient culture.

They are one of Dali's 16 famous scenic spots and belong to the oldest standing structures in Southwest China. They also represent the wisdom of Dali people. The tallest (built in AC836) of the three, Qianxun Pagoda, is rectangular, 69.13 metres high and divided into 16 tiers.

Each tier has four niches in its four directions.

There are Buddhist sculptures on the east and west shrine.

The other two shrines are the windows for the pagoda.
The pagoda is empty inside except for wooden beams.

Along the stairs one can reach the top (on special occasions.)

There are 4 corners on its summit. At each corner there is a copper-caste golden-winged bird.

People say these birds have caste a spell on the demons in Erhai Lake. On the outside, on the bottom tier, we read an epigraph: If we translate it into English, it means something like: PEACE ON MOUNTAINS AND RIVERS FOREVER AND EVER.

The two smaller pagodas that are 10-tiered and measure 43 metres high each flank Qianxun Pagoda.
Both were built with square bricks about 150 years after the completion of the Qianxun Pagoda.

People in ancient times always thought only pagodas could defeat all sorts of demons and evil ghosts.

That was the reason why they liked to build pagodas at some important passes. In 1978-1980's restoration period, about 600 cultural relics of the Tang and Song Dynasties including Buddhist scriptures, Buddhist musical instruments and a copper mirror were discovered.

What was excavated from under the pagodas were priceless treasures by which we can research and study the economy and culture in the ancient times.
Behind the 3 pagodas there is a temple called Chongsheng Temple.

It is laid out in the traditional Yunnanese style, with three layers of buildings lined up with a sacred peak in the background.

The temple was destroyed in AC 1872 in a civil war, but has been restored and converted into a museum that chronicles the history, construction and renovation of the pagodas.

If you want to buy some marble articles, this is one of the best places.
| | |
| --- | --- |
| To the south of the 3 pagodas, about half km away, there is a small park called the Park of Inverted Image of the 3 Pagodas. There is a small reservoir in which you will see the beautiful inverted images of the pagodas as well as the 3 pagodas. You can take some perfect pictures! | |
Xiao Putuo Island is a little island in the Erhai Lake. You can rent a small boat to visit the Lake and if you are lucky you can see the cormorants on the lake.

Mr. China's Son Cultural Exchange Cafe can organize Special trip to visit the fisherman and the cormorants fishing.
| | |
| --- | --- |
| Xizhou Town is 18 kms away from Dali Old Town. Visitors will see the beautiful Bai style old houses there. The local people have "Morning Market", starting about 8:00 everyday. | Zhoucheng Town is another famous Bai community, it is 23 km away north of Old Dali Town. There is an everyday "Afternoon Market" starting about 16:00 o'clock in the afternoon. |
| | |
| --- | --- |
| Guangyingtang Temple is the best Buddhist temple in this area. It is 7 km away from Old Dali Town. You can go there either by bike or take No.4 public Bus. | Zhonghe Temple lies in a forest at the middle part of Zhonghe peak. You can reach it by walk or cable lift. It is the best spot to view Dali. |
| | |
| --- | --- |
| Nanzhao Dehua Stele locates 7 kilometers away south of Old Dali town. It was set up in AC1230 years back in the history. It is 3.02 meters high, 2.27 meters wide, and 0.58 meters thick, sand rock in component. There are 3800 words carved in 40 lines at the front side. At the back side, carved with 1200 words in 41 lines. These words are Nanzhap Kingdom's generals' names or their titles. The words look graceful and classic. Handwriting is pretty and charming. It has been famous as the first stele in Yunnan Province. The words it recorded mainly the event of "Tianbao War" between Nanzhao Kingdom and Tang Dynasty. They express a wish to have a reunion with Tang Dynasty. t is an important material to study the social system, politics, economy, military, culture, geography, history, religions, ethnic groups of Nanzhao Kingdom. | I It's one of the national historic heritages, and one of the tourist interesting spots in Dali. |
| | | |
| --- | --- | --- |
| | The Spring Of Butterflies is one of the most famous spots in Dali because the legend was very touching and a film called "Five Golden Flowers" was also well known in China. As for scenics, we don't think worthing visiting. If you want to read the legend, go back to homepage and look for "folk tales". | |
| | |
| --- | --- |
| If you fond of marbles, you should go to visit "Wang Yongling Marble Museum", in which hundreds and thousands of sacred master pieces of stones are displaying. You see on the left side, two lines are guarding the "King's seal", and on the right, a bird is resting on the mountain. | |
| | |
| --- | --- |
| | Visitors can take bicycles to take a ride tour among many villages, we are sure, you will see many many interesting things on your way. |
Since Dali's opening to foreign people in 1984, besides a visit to the Dali Old Town, have a rest in the so called Foreigners' Street, two markets (Wase and Shaping) have become interesting places for travellers to visit. No matter where they come from, people love to go and have a look.

Probably the main reason for this, broadly speaking, is the atmosphere of these markets which is entirely different from a supermarket in a big city. 90% of the marketeers and market goers are pure 'repairers of the earth' (in Chinglish, it means the person who uses a hoe to dig in the field all the year round; a farmer).
What they buy or sell is what they need and produce at home. They pay little attention to their dress, dressing at their own sweet will. Some of them take time off from their work in the fields to sell or buy produce and then hurry back to continue working. We can also say Shaping and Wase markets are two classrooms for a Western traveller to learn how different people live and work in different places. At Wase and Shaping, people carry a large bamboo basket on their back or a 1.5 metre-long-pole on their shoulder. Many of the buyers search for their money not from a pretty zip purse but from an embroidered tiny cloth bag from a safe pocket in their underwear. A large numbers of women-sellers keep their money in the upper part of their socks or inside their left sleeve-cover (a cloth that protects their lower arms from dirt). Also, it is very amusing to see a man open his barber shop under a large tree, a dentist gives you a performance of his special skill, a white-haired old man composes calligraphy with a brush. In a city's hospital, if you want to get something for your cold, you have to wait and go from room to room. But here at Wase or Shaping a medicinal herb-collector opens his clinic on the ground. Everything (including writing down your name, age, checking your trouble and wrapping your medicine etc...) can be done in less than a quarter of an hour.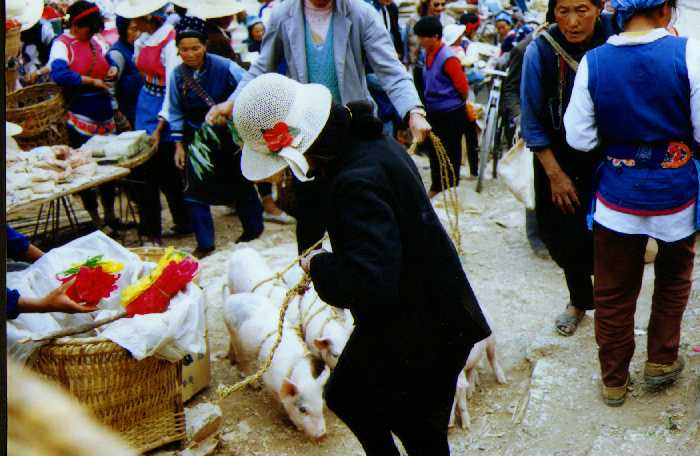 The Shaping Market is the second typical countryside market near Dali. It is always on Monday. It is also very easy to get there: You just go to the high way and take a bus, it will cost you at most 5 yuan (single way), then you can stay there as long as you like. When you are ready to come back, just get on a mini-bus (there are lines of buses waiting for passengers there). If you like, you also can go there by bike. Shaping is about 27 km away from Dali, and along the highway, there are many villages, you can stop at any place you like, you also can visit the famous Xizhou town, Zhoucheng town and the so-called famous Butterfly Spring (not worth visiting) within one day!
| | |
| --- | --- |
| | Now let come down to the Erhai Lake. "Er" means "ear", because its shape looks like an ear. It is 1972 metres above the sea level. It is called the "Plateall Peart". There are 3 islands in it. The lake like a mirror set at the bottom of Cangshan. |
One of the most interesting thing in the lake is people are using cormorants fishing. However, the fishermen only use the birds only in the winter seasons.

Mr. China's Son Cultural Exchange Cafe can organize Special trip to visit the fisherman and the cormorants fishing.
The Luoqun Temple and the Sky Mirror Place locate on the east side of the Lake. They were set up in Tang Dynasty, about 1300 years ago. There is a Great Hall, Bilu Master Hall. Not very far away from the temple in the Erhai Lake, there is a legend about the famous Looking for Husband Cloud. The legend has it that long time ago, a hunter in the Nanzhao Kingdom flies to Luqun Temple to steal a seven treasure cassock for Ah Feng, frincess of Nanzhao, to keep from cold. Unfortunately he was defeated by Master Monk Luopun by a straw stool and turned into a Stone Donkey lying inside the water of Erhai Lake. In the transistion of Autumn and Winter seasons, Looking for Husband Cloud comes out from Yuju Peak of Canshan Mountain. At this time, Erhai's waves begin to roll up and down. Boats can not sail at this time. So the cloud is called "No sail Cloud"
| | |
| --- | --- |
| | The Luoqun Temple |
The Sky Mirror Palace was first built in ming Dynasty, about 700 years ago. Now it was rebuilt. It is a four-story octagonal pavilion with upward roof corners. It stands high on the top of Yu'an mountain at northeast corner of Luoqun Temple. It looks both slim and stately. As one of the four famous pavilion in the Erhai Lake area, it is a good companion to the famous loupqun Temple. Visitors can take boat to visit these places or just take a two-day bicycle tour around the Erhai Lake.
| | | |
| --- | --- | --- |
| | Besides the scenic spots near Old Dali Town, there are three other famous scenic spots in Dali area. The first one is the Shibao Mountain. It locates in Jianchuan county, about 100 kms away from Old Dali Town, very near to Mr. China's Son's home village. This is a unique tourist interesting spot. the tourist area is divided into two parts: The stone Caves of Shizhong Mountain and Baoxiang Temple. | |
| | |
| --- | --- |
| | According to the Lunar Calender, during the last three days of every August, there is a very famous folk song competition here. Thousand of villagers around Dali area will rush to here to join in the competition. |
The next one is Jizu Mountain. Jizu Mountain is one of the most famous mountains for Buddhist in Dali area. It's as famous as Ermei Mountain in Sichuan Province.

It locates at east part of Old Dali Town, about 150kms away.
| | |
| --- | --- |
| | |
The last one is Weibao Mountain, which is located in the southeast part of Weishan county, 10 kms away from the downtown. Weishan county is about 50 km away from new Dali. It is listed among the fourteen most nation-wide famous Taoist mountains.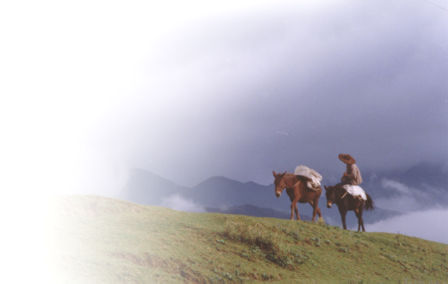 Dear friends, it's really difficult to tell all of them.

These are just my personal experience and ideas.

I am sure you certainly will find more!

We are waiting for your comming!

Mr. China's Son Back To Top
---