| | | |
| --- | --- | --- |
| | I am Your LITTLE GUIDE! They call me Mr. China's Son's son's son, because my grandpa is the Mr. China's Son. My name is He Xincheng. I am now almost 7 years old. You would certainly be my guide to any other places. Here, however, I would be your qualified guide! Well, Just follow my deer! | |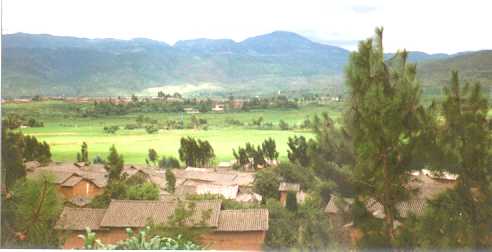 Look! This is our home village(from back). It is one of many sleepy villages in Jianchuan County, Dali, Yunnan. Although beautiful, still not quite rich. My grandpa, grandma and uncle as well as my dad had a hard time here. They said that for some time they didn't have rice and bread to eat. Then, I told my grandpa:"You're stupid, why not just eat beaf and pork if you did not have rice and bread?!" I was not lucky enough to be born in this little village, I have been back here many times. Nanai was exceedingly happy each time when I followed dad to visit her. I was born in a city, but my Nanai always told me that this is my village, my home and my "root", I don't understand why.
| | |
| --- | --- |
| | |
This is our family. I am sitting comfortably in my uncle He Luzhong's arm. He is the tallest and the most brave one in our family. Of course, he is very clever. He is my best friend, and I admire him very much. The young lady is my dear Mama Luo Yuqiong. She is kind and hardworking. Next is my Nanai (grandma) He Cunniang. She is 68 years now, very thoughtful and well experienced at everything. She prefers to live alone in our home village. I'll carry her back to live with me one day! The next one is my Grandpa, the so called "Mr. China's Son". You will know him much better as soon as you read his books. The left one is my Dad, who is always busy, busy....
| | | |
| --- | --- | --- |
| | Although I'm young, I know many of our family history. The left old man was my great grandpa He Bukun. The right was the Last Supper of the family with my great grandpa in 1986. Though the whole family toasted for his health and long life, he still left us a few months later. | |
| | |
| --- | --- |
| | When the situation turned from better to better, my great grandpa passed away in August, 1986. It's really a pity, he had not share many of our happiness! At the funeral ceremony, a large number of our relatives (wore a snow-white hat) gathered in front of his coffin to mourn for him. |
| | | |
| --- | --- | --- |
| | My Grandpa, Dad and my Uncle had worked and studied in a far mountainous place called Madeng, where is considered one of the poorest places in poor Jianchuan County. Look, who is the duckling on the left? I would hand out him all my pocket-money if I saw a boy like this in the street. Don't consider him a beggar in the street, he is my Uncle! | |
| | | |
| --- | --- | --- |
| | He had been poorly looking, but he is now a very handsome young man! I seldom visit him, but as soon as I see him, I would not want to follow my Dad but my Uncle. He loves me very much. | |
Early in July 1999, my grandpa took my grandma to Kunming to "have a rest". Actually, their purpose was to have an on-the-spot look at my uncle's daily routine in our provincial capital. ----They said: "Excellent"! My uncle is now bringing them to see the International EXPO'99.

However, nobody could ever imagine that on June 24, 2003, my dear Uncle drowned in Thailand when he worked there as a consul. This made all my family mad. My father had made a special website, an Internet Altar for remembering him. Detail information about the accident could be got at HERE .
My Dad and Mama got married in 1993. They also held a party in our home village. You can see guests are eating in our courtyard.
| | |
| --- | --- |
| On my one-year-old birthday, the family tested about what I would do in the future. Look, I picked up a pencil and used it to get the money. And then I walked through all the people and handed the 100-yuan bill to my father, who was taking the picture. My action greatly satisfied my grandma. She explained: "He will be an intellectual (white-collar). He will make money for his father!" | |
| | | |
| --- | --- | --- |
| | We now have a wonderful family. Everybody in our family is hardworking and honest. We help each other all the time. Look, my grandpa is helping my Nanai to thresh grains at our courtyard. | |
When I went back to visit my Nanai in the village, I always could discover or learn something new the village. My Nanai always tries to ask me to be careful when I had my meals.
| | | |
| --- | --- | --- |
| | | She always said that every grain was not easy to be gained. Once, she took me to the field and told me how difficult to get bread. She let me understand that every grain was coming from a lot of hardworking and a lot of sweat. |
| | |
| --- | --- |
| However, almost every time I went back to the village to see my Nanai, she always cooked a lot of delicious food for us. | |
In our family, I am the luckiest little boy while my Grandpa is the most interesting old boy!

 
Our family has many relatives and good friends. My mother has one sister and 2 brothers. The left are all my 3 cousins. The girl who is holding me is the eldest, her name is Li-yin. Like me, her father is also a Bai Minority, she sometimes dresses herself in beautiful Bai clothes. The right are my mother's parents.
We also have many relatives in the village. They are all hardworking and helpful. Whenever I went back for a visit, I always had a wonderful time.
| | | |
| --- | --- | --- |
| | | |
Well! My dear friend, I have many other things to tell and show you. But I have to stop here now, because many other things are too complicated for me to tell now. If you really interested in our family and things in our country, please read my Grandpa and my Dad's books. Or just write them emails, they would tell you more. The following picture is Xiaguan City, in which I am living now. On behalf of our family, I thank you for your visit. I hope you will read our other pages as well. When you come to visit our beautiful Dali, don't forget to come and visit me! I wish you victory and successful! Bye-bye!!